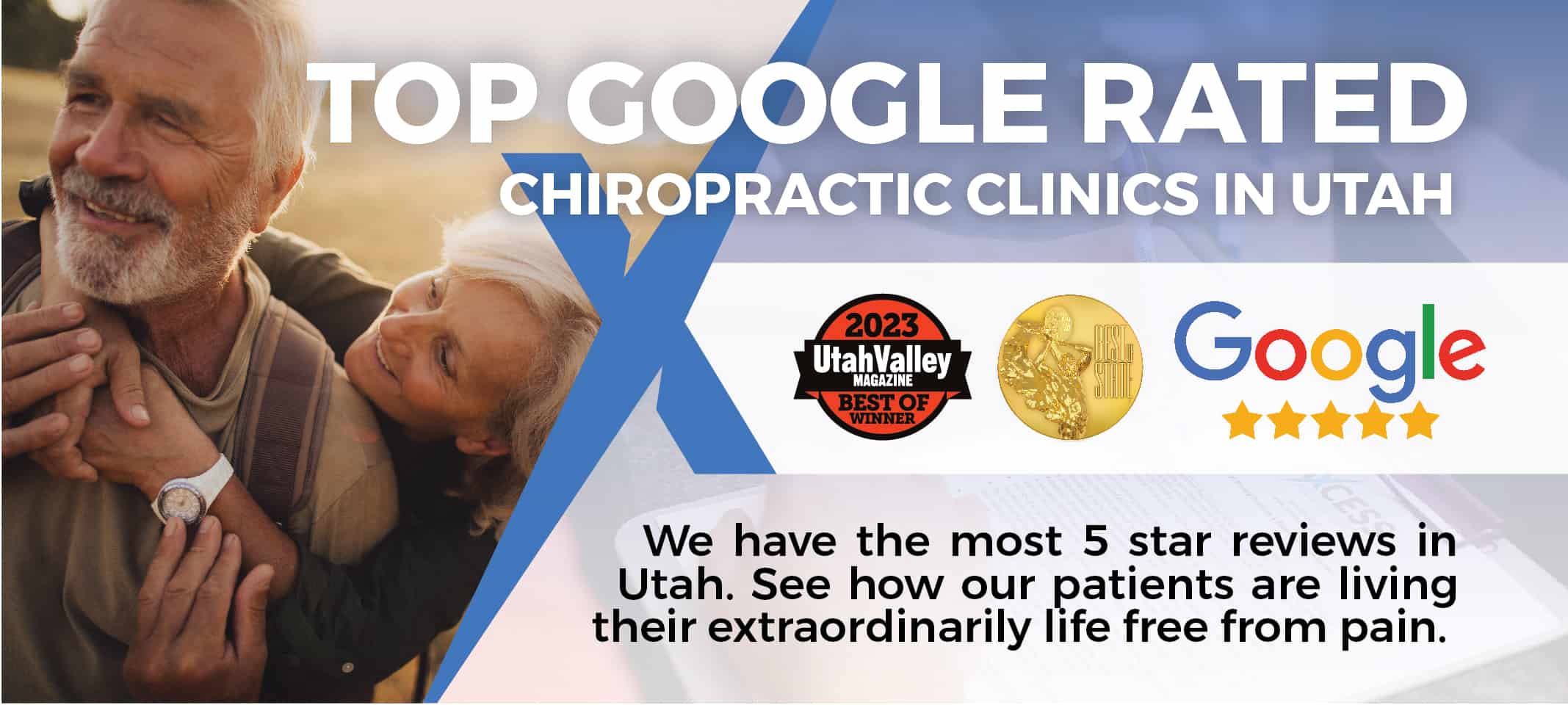 Rehabilitation Therapy
Chiropractic Physical & Rehabilitation Therapy in American Fork, Provo, Spanish Fork, and West Valley, Utah
Yup, we do physical therapy too
What is Chiropractic Rehabilitation Therapy?
Chiropractic Physical Therapy is focused on providing a combination of rehabilitation or physical therapy and chiropractic focused care. This includes manual adjustments to realign the bones in your neck, spine, and body and specific exercises and resources focused on strengthening and supporting your muscles and body.
Chiropractic rehabilitation therapy helps patients regain full joint function and return to daily life. When it comes to treating pain, promoting healing, preventing injuries and even avoiding long-term disabilities, our chiropractic physical therapy helps restore muscle movement, alleviate pain and strengthen current muscles.
recovery is possible
Benefits of Chiropractic Physical Therapy
There are many things that chiropractic physical therapy can help address including:
Pain from an injury sustained in an accident
Slips and Falls
Rehabilitation after joint or muscle surgery
Joint and ligament injuries
Low back
Spinal cord
Arthritis pain
Sprains
Cardiac rehabilitation
Limb amputation
Spinal cord injury

Multiple sclerosis
Muscular dystrophy
Orthopedic injuries
If you have been in a car accident in the last 45 days, get a free 30-minute massage on us!
"*" indicates required fields
What to Expect in Chiropractic Rehabilitation Therapy
Chiropractic Physical Therapy or Rehabilitation Therapy Include: 
Low-Impact Aerobic Conditioning
Chiropractic Adjustments & Alignments
Utilizing Electric Stimulation
Temporary Relief of Musculoskeletal Pain
PART OF OUR INTEGRATIVE APPROACH
Why We Use Chiropractic Care with Rehabilitation Therapy?
A licensed and trained physical therapist is skilled and educated to focus on proper rehabilitation.  Working under the referral of a doctor, a physical therapist is part of a team of care specialists to help a patient regain normal daily activities.
A chiropractor can help the healing process by loosening joints and muscles and bringing your body into proper alignment. Then, a physical therapist can begin re-establishing strengthening and maintaining a good range of motion and provide exercises designed to strengthen joints and muscles.
Working together can advance the healing process to help you return to daily life before you know it. It will also support you in your recovery so that you can resolve symptoms, and take appropriate action to prevent future or more severe injuries.
Find support at an Axcess Accident Rehabilitation Center near you for a free consultation to see how our chiropractic physical therapy visits can help you recover and enjoy a higher quality of life.
You can contact any of our accident centers located in American Fork, Provo, Spanish Fork, or West Valley, Utah to get the rehabilitation therapy you need.
Find A Chiropractic Location Near You in Utah
No matter the location, each and every member of our team cares about you and your experience. We ask questions and listen to your answers so that we can be sure that your needs are being met. Our number one priority is that you get the care you need, so that you can overcome any pain or discomfort after an accident or injury.
Contact Us
Tired of Dealing with Pain? Contact Us to Get Started Now!
Location
2230 N. University Pkwy Bldg 5, Ste A
Provo, UT 84604
Hours
M/W/F: 9am-6:30pm
T/Th: 2-6pm
S/S: Closed